4K/5K Pre-Registration 2022-23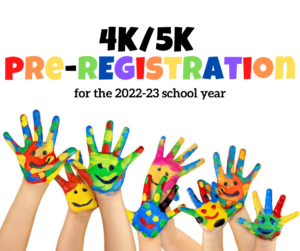 What: 4K & 5K Pre-Registration
When: April 7th, 2022 from 3:30 pm – 5:30 pm
Where: Black Earth Elementary
How: Sign up for a timeslot below (Please note, you must sign up for a time slot, we can not accept walk-ins at this time)
https://www.signupgenius.com/go/5080F44ABAC2EA6FF2-4k5k2
April 7th, from 3:30 pm to 5:30 pm, Black Earth Elementary will be pre-registering students for its 2022-2023 Preschool and Kindergarten classes. Pre-registration will be held in the Black Earth Elementary School. You must sign up for a time slot to pre-register your child here:
Parents of children who will be 4 years old on or before September 1, 2022, are invited to come and enroll their child for Preschool, while parents of children who will be 5 years old on or before September 1, 2022, are invited to enroll their child in Kindergarten. Parents of students who are currently enrolled in the Black Earth Preschool program will be automatically enrolled in Kindergarten and do not need to attend pre-registration. Additionally, children do not need to attend.
Pre-registration is an important component in our district budget planning for the coming school year. We base our initial Preschool & Kindergarten staffing and class assignments on the number of students who are pre-registered.

Parents are asked to bring a few items to pre-registration.
Please provide verification of your child's birth date in the form of their original birth certificate.

Proof of residency (utility bill, phone bill, lease, etc.) if you do not already have a child enrolled in the district.
At pre-registration, you will receive several forms to be completed immediately. Forms can be found on our website if you are unable to attend at https://wisconsinheightssdwi.sites.thrillshare.com/page/new-family-enrollment
Please note, this pre-registration is only for Preschool and Kindergarten. Full online registration will be done at district registration which will be held in August.
Please extend this invitation to anyone you know who has recently moved into the Wisconsin Heights School District.
We look forward to seeing you at pre-registration! Please feel free to call Courtney in the Black Earth Elementary School office at 608-767-2251 with any questions.